The entrance to the largest city of Kazakhstan is now extremely difficult: the roads are blocked by fires and barrels. Lines of cars at the gas station in the suburbs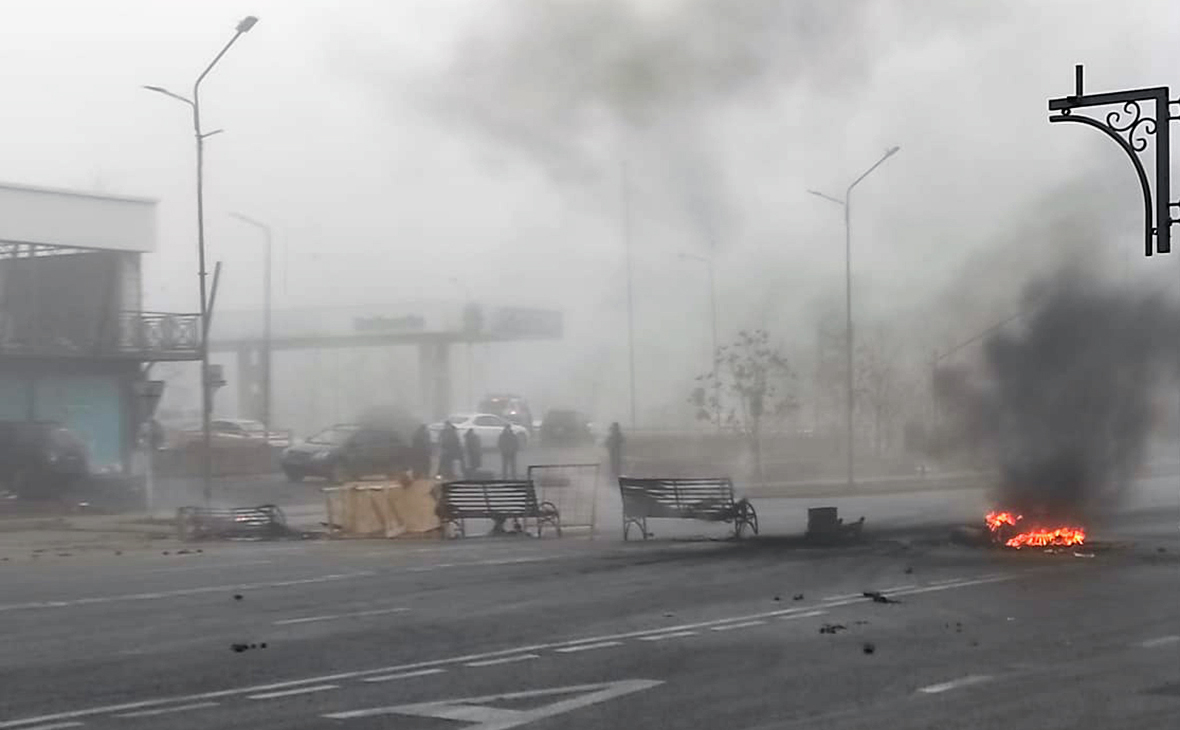 The entrances to Alma-Ata are blocked by fires and barrels, it is extremely difficult to get into the city, the RBC correspondent reports. At one of the entrances, armed men in balaclavas did not allow the reporter's car to pass.
In the suburbs of the largest city of Kazakhstan, queues of cars accumulate at gas stations. One of these gas stations was destroyed, gasoline from the storage is poured directly into the cans. There are also long queues at the ATMs.
At the entrance to the city and at a short distance from the center, the RBC correspondent did not see a single representative of the law enforcement forces, but armed people in balaclavas were noticed. There is still no mobile Internet in the city, cellular communication works in fits and starts, television channels & mdash; through one. The few interlocutors of the RBC correspondent are very wary, they call the armed people and those who participated in the pogroms bandits.
Alma-Ata became the center of street riots that engulfed a number of large cities in Kazakhstan. On the night of January 6, according to local police, rioters tried to seize several administrative buildings. As a result, dozens of people were " eliminated, '' police said. There are also victims among law enforcement officers: 13 people died, and two were found with their heads cut off. More than 350 security officials were injured.
The protests in Kazakhstan began on January 2 amid a sharp rise in prices for liquefied petroleum gas – the main type of automotive fuel in Kazakhstan. Despite promises by the authorities to introduce state regulation on fuel and keep prices down, and after the government resigned, the protests escalated into riots. On January 5, rioters broke into the Almaty administration building. A fire broke out in it and in the building of the office of the Prosecutor General's Office. Then they attacked the police departments and the National Security Committee. The President of Kazakhstan, Kassym-Jomart Tokayev, introduced a state of emergency throughout the country until January 19 and turned to the Collective Security Treaty Organization for help (it includes Armenia, Belarus, Kazakhstan, Kyrgyzstan, Russia, Tajikistan and Uzbekistan). On January 6, the CSTO sent a military contingent to Kazakhstan, and airborne units from Russia went to the country. The purpose of the contingent & mdash; protection of military and state facilities.
Author Alexander Atasuntsev Involved Georgy Peremitin Subscribe to Instagram RBC Receive news faster than anyone